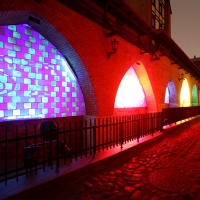 Location: Trokšņu Street between the Swedish Gate and the Powder Tower
This is both an exhibition and an interaction between the spectator, image and illusion; between that which is real and that which seems real; between motion and stillness; between vision, mind, light, color, science and art.
The goal of this project is to challenge the human mind and to encourage surrendering to optical illusion, to create intrigue that is based on human curiosity and adventure, to have fun, to make out that which is hidden.
On Trokšņu Street, a gallery of large-sized paintings has appeared in the defensive wall's arches. Thanks to special paints used in the paintings, they appear only under certain conditions of light play. The paintings reveal themselves periodically, flirting and playing with the spectators' sense of vision. At one moment there is just a white space in front of the spectator's eyes, but the next moment it has transformed into a colourful painting.
The project visually creates an interplay between the historic city defensive wall and the Op Art style works placed in the arches, unifying different aesthetics, which strongly address the spectator.
Hidden in each painting are letters, that together form a sentence. Spectators ar invited to take part in the illusion game and guess the riddle.
The Project Idea Author: Ideju Institutūts, Ltd.
Project Implementation: Stageart, Ltd.



Vote for the best light object of the Festival!
If you think this object is the best – send STARO21 to telephone number 1188.
Cost per SMS – at the usual rate charged for an SMS by your mobile phone operator.
Voting commences at 18.00 on 18th November and closes at 23.00 on 21st November.
Or
Vote on the DELFI portal in the special "Staro Rīga" news section
Voting starts on the 18th November at 18.00 and finishes at 24.00 on the 25th November.