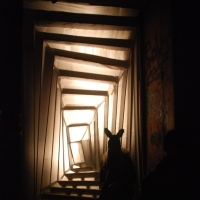 Location: Intersection of Kalēju street and Kungu street
The "climb" light object has been created based on an optical illusion – an unending continuation, a spiral, which is artistically integrated in the planning of the specific environment. The basic materials of the object are a plywood and nylon overlay, which by interacting creates a play of light.
The object technically integrates itself into the gate, door, and window apertures, bringing an abandoned building to life. The light nylon material overlay creates a warm tonality of lighting, which creates a feeling of home in seemingly abandoned places.
At the base of the object are nine plywood "frames" which are placed systematically to create a spiral motif, and after the frames are set up, they are covered with the light nylon material. The source of light is placed behind the object, ensuring that external factors don't influence the operation of the object. The light will peacefully pulsate creating a feeling of closeness, just like the movement of candlelight or the sun.
The symbol 9 is often considered as the final number, whereas the spiral symbolizes eternal unending movement – the universe. These symbols indirectly create something like an unattainable goal, the eternal striving for fulfilment, progress. People who are affected by the number 9 are active and goal oriented and their never-ending enthusiasm helps them to achieve what they want. First of all, this number's symbolism coincides with the authors' personal characters, and is also like a message to everyone – don't stop at your first achievements, never stop. A person is alive only when moving and we wish this on everybody – keep moving!
The object will be created by the Rīga Design and Art High School's Form Design fourth year students, who have worked well together in creating various high quality synthesis and interactive objects.
Project idea authors and constructors: Artūrs Analts, Rūdolfs Strēlis
Cooperation partner: ARE-RUU Design
Project sponsor: TELE 2


Vote for the best light object of the Festival!
If you think this object is the best – send STARO32 to telephone number 1188.
Cost per SMS – at the usual rate charged for an SMS by your mobile phone operator.
Voting commences at 18.00 on 18th November and closes at 23.00 on 21st November.
Or
Vote on the DELFI portal in the special "Staro Rīga" news section
Voting starts on the 18th November at 18.00 and finishes at 24.00 on the 25th November.