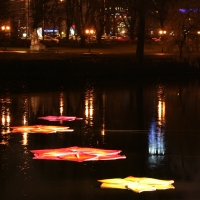 Location: Riga city canal near the Latvian National Opera
Those who like to walk along the city canal will be able, once again, to enjoy summer-like feelings. Near the National Opera building, with winter approaching, water lilies and lotus flowers have bloomed.
This object consists of five floating structures in the shape of flowers that look like bright, enchanting islands of light in the surrounding darkness. The light-reflecting paint with which the petals have been coated shine in the projectors' beams. Thanks to the UV-projector programming, the blossoms shine brightly one moment, faintly the next. This creates the impression that the blossoms seem to open and close, hypnotizing people and making them stop during their daily rush.
The installation "The Life of Blossoms" is the debut of creators Garijs Pisecka and Irina Pisecka and is made possible thanks to the participation of Konkas and Skatuves sistemu serviss in this project.
The Project Idea Authors and Implementors: Garijs Piseckis, Irina Pisecka
Project Cooperation Partners: Konkas Ltd., Skatuves Sistemu Serviss Ltd.




Vote for the best light object of the Festival!
If you think this object is the best – send STARO46 to telephone number 1188.
Cost per SMS – at the usual rate charged for an SMS by your mobile phone operator.
Voting commences at 18.00 on 18th November and closes at 23.00 on 21st November.
Or
Vote on the DELFI portal in the special "Staro Rīga" news section
Voting starts on the 18th November at 18.00 and finishes at 24.00 on the 25th November.