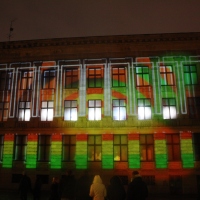 Location: Latvian Radio building façade
This site plays upon and visualizes radio waves as the foundation of modern wireless communication. The essence of this production is uninterrupted movement, which makes the radio building pulse to the music's rhythms. As the music progresses, so too do the intensity and diversity of the videos – all of which develop into a colourful performance with unexpected, surprising sound and light modulations.
In Latvia, radio broadcasts were first transmitted in 1925 from Riga, on the current Radio Street. While the first experimental Riga's radio transmissions started in March, on November 1st, Riga's radio began broadcasting. The broadcasts began with the words "Hello, hello, Riga's radio is testing".
The project "On a Wave" is created by the Tvreklama.lv team, who've demonstrated their talents in creating video scenery for the performance "Nāc pie puikām (Come to the Boys)" as well as in their daily work with television commercials. This project is a new challenge for the Tvreklama.lv team, providing the inhabitants of Riga with a pleasant mood for the holidays.
Come and experience it!
PLEASE NOTE! The project will be suspended from 18.50 until 20.20 on the 19th of November due to a concert at the Rīga Dom Cathedral.
The Project Idea Author: Rihards Šešo
Computer Graphics: Rihards Šešo, Kristaps Griva
Project Implementor: Tvreklama.lv
Cooperation Partner: Graphic.lv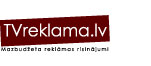 Vote for the best light object of the Festival!
If you think this object is the best – send STARO7 to telephone number 1188.
Cost per SMS – at the usual rate charged for an SMS by your mobile phone operator.
Voting commences at 18.00 on 18th November and closes at 23.00 on 21st November.
Or
Vote on the DELFI portal in the special "Staro Rīga" news section
Voting starts on the 18th November at 18.00 and finishes at 24.00 on the 25th November.