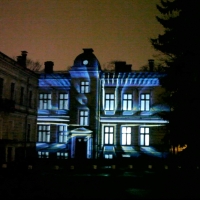 Location: Piens Café terrace, Aristida Briāna 9
We bring life to the adjacent buildings which have been dark for quite some time, without human warmth, the sound of footsteps and conversation. Having opened their windows and let some fresh air in, they are ready to tell a tale and they do have something to say. Cafe "Piens" in collaboration with SIA Sinergo representative Miķelis Priekulis, SIA 3S and Open AD bring this story together in a musical light and projection show leaving the control of it to the visitors. Each "Staro Rīga" Festival visitor is invited to improvise on the piano, the sound of which brings the show to life on the facades of the buildings. You never know what the black piano keys may be hiding!
Project idea authors: Cafe Piens, Open AD (Zane Tetere)
Project constructors: SIA "Sinergo" (Miķelis Priekulis), SIA "3S"
Project sponsors: SIA "SOFABAR" – Cafe Piens




Vote for the best light object of the Festival!
If you think this object is the best – send STARO61 to telephone number 1188.
Cost per SMS – at the usual rate charged for an SMS by your mobile phone operator.
Voting commences at 18.00 on 18th November and closes at 23.00 on 21st November.
Or
Vote on the DELFI portal in the special "Staro Rīga" news section
Voting starts on the 18th November at 18.00 and finishes at 24.00 on the 25th November.