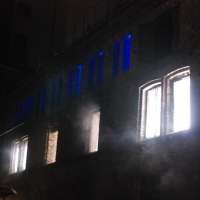 Location: Radio NABA Club – NABAKLAB. Zigfrīda Annas Meierovica bulv. 12 (Courtyard area accessible from Smilšu iela as well)
The harmless light and sound ghosts are witnesses of a bygone era. They usually appear in old castles, abandoned homes, or wander about wherever. This is a story about the one time legendary Latvian builder and the University of Latvia's great benefactor, Kristaps Morbergs' famous Rīga centre horse stables, where from time to time friendly ghosts can be seen.
Morbergs House, which is located at Zigfrīda Annas Meierovica bulvāris 12, in its more than hundred year existence, was the home of not only the great benefactor K. Morbergs himself, but also famous artists, politicians, and other educated people of the time. Craftsmen's workshops, bakeries, wineries, art galleries, a decoration workshop, as well as book and stationery stores popular with the populace, were located here. The building with one of Rīga's oldest lifts, a substantial stone wall and the legendary horse stable, has been the beneficiary of its benefactor's vision and power. It is obvious that this house has been through a lot and is the custodian of old memories, and obviously ghosts can be seen there. The University of Latvia's Radio NABA Club NABAKLAB, in the courtyard of which the special stables are located, cares for them now.
Project idea authors: Madars Štramdiers, Andris Grandbergs
Project constructor: SIA "NABAKLAB"
Cooperation partners: Radio NABA, University of Latvia, Sound & Light Company A-Sound
Project financer: SIA "NABAKLAB"


Vote for the best light object of the Festival!
If you think this object is the best – send STARO20 to telephone number 1188.
Cost per SMS – at the usual rate charged for an SMS by your mobile phone operator.
Voting commences at 18.00 on 18th November and closes at 23.00 on 21st November.
Or
Vote on the DELFI portal in the special "Staro Rīga" news section
Voting starts on the 18th November at 18.00 and finishes at 24.00 on the 25th November.