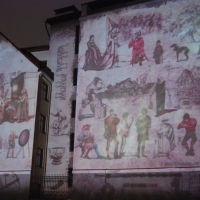 Location: Gleznotāju Street
Old Rīga – its craftsmen, merchants and other Rīga residents, will await the Festival of Light "Staro Rīga" visitors on the bed of the ancient Rīdziņa River in Gleznotāju Street. They will show themselves to today's people of Rīga for only four days and together with the ancient buildings, which are the only witnesses of a bygone era in the city, will allow one to imagine oneself living in Rīga many centuries ago.
The project is dedicated to our city, which will celebrate its 810 Year Anniversary in 2011, to history and to its creators.
Project idea author: Vladislavs Lakše
Project constructors: VPT SERVISS, PRO1


Vote for the best light object of the Festival!
If you think this object is the best – send STAR025 to telephone number 1188.
Cost per SMS – at the usual rate charged for an SMS by your mobile phone operator.
Voting commences at 18.00 on 18th November and closes at 23.00 on 21st November.
Or
Vote on the DELFI portal in the special "Staro Rīga" news section
Voting starts on the 18th November at 18.00 and finishes at 24.00 on the 25th November.