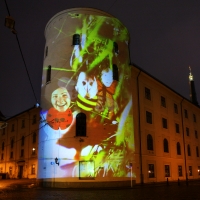 Location: Pils Square, the Riga Castle Tower
An interactive video art performance in which the Festival attendees become the main heroes of the story or dream.
Visions of dreams are projected on the Riga Castle tower. The faces of Festival spectators are "placed" in these visions, allowing anyone to momentarily float away in a dream – obtain a new body, take off like a bird in the sky, view the ocean depths, etc.
This project is based on interaction – between the video artist and Festival attendees, whose faces are filmed and projected on the castle tower. Spectators have the chance to grant the projection a unique feeling and atmosphere with their emotions and facial expressions. With the help of technology, people are transported to a fantastic dream world that they themselves enliven. Anyone can simultaneously be the creator of the interactive projection as well as its observer.
The Project Idea Author: Ideju Institūts, Ltd.
Project Implementation: Video Artist Artis Dzērve, Stageart, Ltd., VPT Serviss Ltd.



Vote for the best light object of the Festival!
If you think this object is the best – send STARO9 to telephone number 1188.
Cost per SMS – at the usual rate charged for an SMS by your mobile phone operator.
Voting commences at 18.00 on 18th November and closes at 23.00 on 21st November.
Or
Vote on the DELFI portal in the special "Staro Rīga" news section
Voting starts on the 18th November at 18.00 and finishes at 24.00 on the 25th November.