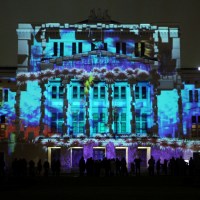 Location: Latvian National Opera's facade
Just like three dimensional television (3D) has transformed our television watching experience, bringing a spatial image into our living room, the Three dimensional metamorphoses light object created by Samsung will transform Staro Rīga Festival viewers' concepts of what the Latvian National Opera's façade looks like for all time.
Since the cave man first began to play with shadows which fire played onto the walls of his cave, lighting illusions have developed to the extent that fantasy can no longer be separated from reality. Absolute freedom has been achieved both for the creators of the illusions as well as for the viewers.
Our lighting object idea is simple: if it's become possible to fly without wings, to reanimate dinosaurs and to create new worlds both in three dimensional cinema, as well as on three dimensional Samsung television , there isn't a problem with doing something impossible with a building as well!
Using the latest 3D modelling, special effects and digital projection technology, and combining these with the flights of fancy of artists, this lighting and sound performance will reveal new generation, elemental and geographical dimensions, and will carry us away into a different reality, where the Opera building has probably never been …
Project idea author: "Samsung Electronics Baltic", "Kalvestudija", "Leo Burnett Rīga"
Project constructor: UNTITLED productions
Project cooperation partner: "Kalvestudija"
Project sponsor: "Samsung Electronics Baltic"
Preview:



Vote for the best light object of the Festival!
If you think this object is the best – send STARO47 to telephone number 1188.
Cost per SMS – at the usual rate charged for an SMS by your mobile phone operator.
Voting commences at 18.00 on 18th November and closes at 23.00 on 21st November.
Or
Vote on the DELFI portal in the special "Staro Rīga" news section
Voting starts on the 18th November at 18.00 and finishes at 24.00 on the 25th November.