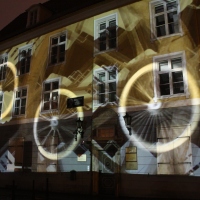 Location: Mazā Jauniela
Squares, circles, spheres and polygons are just geometric figures. But in the hands of artists they come to life, start to move and create patterns. Like in an ancient relief, a contemporary computer game, on a chess board, a cobblestone street, a building's facade – everywhere various figures create patterns.
This time unusual geometric figures, creating patterns, will come to life on the "Ritums" Culture and Folk Art Centre's facade. With the help of video projection everyone will have the opportunity to follow the spheres moving about, see a parade of squares or the creation of triangular pyramids.
Project idea author: UNTITLED productions
Project constructors: "Kompānija NA", VIDEOCENTRS


Vote for the best light object of the Festival!
If you think this object is the best – send STAR05 to telephone number 1188.
Cost per SMS – at the usual rate charged for an SMS by your mobile phone operator.
Voting commences at 18.00 on 18th November and closes at 23.00 on 21st November.
Or
Vote on the DELFI portal in the special "Staro Rīga" news section
Voting starts on the 18th November at 18.00 and finishes at 24.00 on the 25th November.