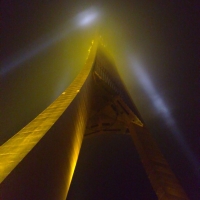 Location: Zaķusala
The lighting of tallest free-standing structure in the European Union, the Riga Radio and TV Tower, will be enhanced with unusual combinations of colours and unprecedented effects during the Staro Rīga festival of light. The tower's lighting will reflect the theme of this year's festival – optical illusions.
The lighting will be set up in such a way as to create an additional visual effect – the projection of the tower into the clouds. Those interested in experiencing this should bear in mind that weather conditions typical in November – fog and precipitation – may mean that this optical illusion will be best seen near the tower and not at a distance.
The everyday lighting of the tower makes use of equipment that does not employ colour filters; during the festival, however, CYAN filters and an RGB colour scheme will be employed.
During the Staro Rīga festival, the special lighting of the Radio and TV Tower can be viewed from 8:00 – 11:00 pm; on the 18th of November, however, the tower will be lit all night in honour of Latvia's Independence Day – until 8:00 am.
Usually the tower is lit from 5:00 pm in the wintertime (from 1 November to m28 February) and in the mornings before it gets light. During the rest of the year the schedule depends on the time of sunset and sunrise.
On Fridays and Saturdays the tower is normally lit for an hour longer, until 1:00 am.
The creator of this project is the Latvian State TV and Radio Centre, in cooperation with SIA Muzikālā Dizaina grupa.
Interesting facts about the Riga Radio and TV Tower on Zaķusala
The Zaķusala Tower is the tallest in the European Union at 368 metres
If one includes those parts of Europe not in the EU, the Riga tower is the third tallest free-standing structure (after the Ostankino tower in Moscow at 540 m and the Kyiv TV tower at 380 m)
The tower was planned to last for 250 years, so the children of our children's children will still be using it
The tower can survive an earthquake of 7.5 on the Richter scale
The tower can withstand winds of 44 m/s
The base takes up 7500 m² in space, more than four hockey fields
7.5 tonnes of anti-corrosion paint were purchased for the tower in 2003



Vote for the best light object of the Festival!
If you think this object is the best – send STARO69 to telephone number 1188.
Cost per SMS – at the usual rate charged for an SMS by your mobile phone operator.
Voting commences at 18.00 on 18th November and closes at 23.00 on 21st November.
Or
Vote on the DELFI portal in the special "Staro Rīga" news section
Voting starts on the 18th November at 18.00 and finishes at 24.00 on the 25th November.