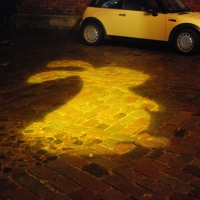 Location: Pēterbaznīcas Street 17
Joyful and playful sun bunnies* dance on Old Riga's dark, night cobblestones and the greyish red walls of St. Peter's Church and by doing so, bring the brightness of Jamaican sun to each of us. An interactive light performance that expresses the interaction between the sun, sun bunnies and you, the viewer! This is the chance to return, for a moment, to childhood – playfully running after the bunnies to try to catch them and hold them, if briefly, in our hands. Or perhaps to succumb in another way – allow your thoughts to take flight and let the sun bunnies take you to Jamaica, where the sun shines 360 days a year and these sun bunnies playfully hop from palm tree to beach sand to the Caribbean sea, which is right here, just a door opening away – CocoLoco, where guests are greeted to reggae music by a dreadlocked Rastaman with a smoke in his teeth.
Project Idea Author: Quintrix Ltd.
Project Implementation: Quintrix Ltd., Gako Ltd.
*in Latvian the term sun bunny refers to light from a mirror, ring, watch, etc. that reflects the sunlight on a wall. Children often are encouraged to try to "catch" the elusive sun bunnies…



Vote for the best light object of the Festival!
If you think this object is the best – send STARO27 to telephone number 1188.
Cost per SMS – at the usual rate charged for an SMS by your mobile phone operator.
Voting commences at 18.00 on 18th November and closes at 23.00 on 21st November.
Or
Vote on the DELFI portal in the special "Staro Rīga" news section
Voting starts on the 18th November at 18.00 and finishes at 24.00 on the 25th November.