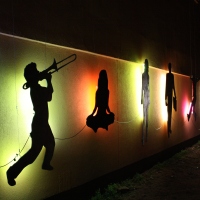 Location: Intersection of Kungu and Mārstaļu Streets
"Catch the Shadow" is a light installation, which creates an optical illusion about the presence of a person without even seeing them. A shadow is what leads us and what stays behind us for a moment. A light object provides the possibility to visualize how we'd look if we were able to freeze our shadow for a moment and to leave it behind. An optical illusion is created with the interplay between light and a person's silhouette, breaking down the borders with reality. The coloured variations of light merge the building's walls with the ground. The movement of the lights also makes shadows at times become uncertain and misleading. "Catch the Shadow!" – that's the challenge for each passer-by; to find one's own shadow.
Black wooden silhouettes of people of actual size, placed away from the illuminated wall, are used in the installation, creating the feeling of a crowd. In the caught art work there's a moment in life which a person wouldn't even really notice in the daily crush. It is an opportunity for each viewer to see the usual in a different way.
Project idea author: Roberts Līcis
Project constructor: Roberts Līcis, Gatis Krievāns
Project sponsor: TELE 2
Project cooperation partner: Rīga City Gymnasium No. 3


Vote for the best light object of the Festival!
If you think this object is the best – send STARO31 to telephone number 1188.
Cost per SMS – at the usual rate charged for an SMS by your mobile phone operator.
Voting commences at 18.00 on 18th November and closes at 23.00 on 21st November.
Or
Vote on the DELFI portal in the special "Staro Rīga" news section
Voting starts on the 18th November at 18.00 and finishes at 24.00 on the 25th November.