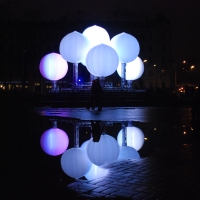 Location: Kronvalds Park fountain
Who can still remember the hot summer and the fountain with beams of light and the refreshing splashing water! This light installation will let you return to a summery mood and the beams of light will interact with huge snowballs, providing a multicoloured musical performance in the harsh conditions of autumn. The light installation's base will be formed by large inflated balls, which will be lit up both from the inside as well as the outside, creating a colourful display with lighting effects.
Project idea author: Normunds Bļasāns
Project constructed by: Kompānija NA


Vote for the best light object of the Festival!
If you think this object is the best – send STARO15 to telephone number 1188.
Cost per SMS – at the usual rate charged for an SMS by your mobile phone operator.
Voting commences at 18.00 on 18th November and closes at 23.00 on 21st November.
Or
Vote on the DELFI portal in the special "Staro Rīga" news section
Voting starts on the 18th November at 18.00 and finishes at 24.00 on the 25th November.