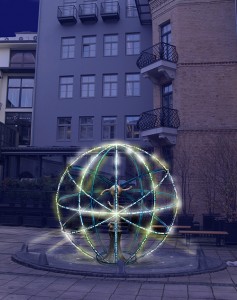 Berga Bazārs, Andalūzijas suns, Elizabetes iela 83/85
The old world transformed by light, the conversion of the old into the new, a fusion of counterforces. Seven circles of light coalesce into a sphere and symbolise the dawning of a new epoch.
Berga Bazārs shopping complex – a contemporary and creative complex featuring a great selection of restaurants, bars and cafes.
Project concept: Egīls Mednis
Project implemented and sponsored by Berga Bazārs and Andalūzijas suns