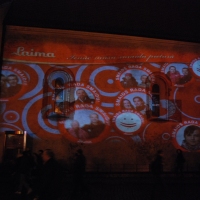 Location: The square behind Rigas St. Peter's Church
Laima invites everyone to unite in smiles! During the Festival of Light "Staro Rīga", your smiles will be gathered and immortalized in "Laima's World of Smiles" in the square near St. Peter's Church. The most smile-filled events of Laima's 140th anniversary year will shine in light images. By participating the interactive light projection, everyone will have the chance to become part of the World of Smiles. Just remember to bring along your nicest smile… The tantalizing smell and taste of Laima chocolates will help your smile shine even brighter. Let's give a smile to ourselves, to others and to Latvia, because smiles create smiles!
Project Idea Authors: Joint Stock Company Laima and Alpha Baltic Ltd.
Project Implementation: Alpha Baltic Ltd., Kalves Studio Ltd.
Cooperation Partners: The Pirate Ship Ltd.
Project Sponsor: Joint Stock Company Laima



Vote for the best light object of the Festival!
If you think this object is the best – send STARO26 to telephone number 1188.
Cost per SMS – at the usual rate charged for an SMS by your mobile phone operator.
Voting commences at 18.00 on 18th November and closes at 23.00 on 21st November.
Or
Vote on the DELFI portal in the special "Staro Rīga" news section
Voting starts on the 18th November at 18.00 and finishes at 24.00 on the 25th November.