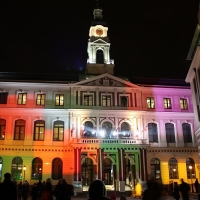 Location: Rīga Town Hall
For the first time a lighting performance will be created on the Rīga Town Hall as part of the Festival of Light "Staro Rīga". Colourful projections on the building's façade will create an unusual symphony of colour – games of light to the accompaniment of music, which will allow everyone's imagination to come alive.
Light is not a simple means of expression in the creation of a story, but it is possible to say a great deal with it. Games of light on a variety of textures and coloured materials create a surprising result.
Even though the Town Hall is not the highest building on the Rīga city panorama, it will become such during the Festival of Light "Staro Rīga". The symphony of colour performance will be supplemented with powerful light projectors.
Project idea author: Aldis Janevics
Project constructor: UNTITLED productions


Vote for the best light object of the Festival!
If you think this object is the best – send STARO1 to telephone number 1188.
Cost per SMS – at the usual rate charged for an SMS by your mobile phone operator.
Voting commences at 18.00 on 18th November and closes at 23.00 on 21st November.
Or
Vote on the DELFI portal in the special "Staro Rīga" news section
Voting starts on the 18th November at 18.00 and finishes at 24.00 on the 25th November.