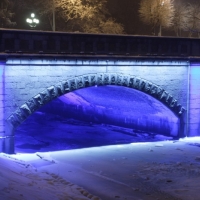 Location: Bridges by the National Opera, the Freedom Monument and Bastejkalns, K.Valdemāra Street, Kronvalds Park bridges
The "Rīgas gaisma" City Council Agency established the permanent illumination of the Rīga City centre at the end of 2009. As part of the project, 86 architecturally designed projectors were fitted at ground level, and 23 architectural projectors to provide colour effects and 66 LED type architecturally designed lamps were installed in the city environs.
Overall, the K.Barona Street Bridge, the bridges next to the National Opera, the Freedom Monument and Bastejkalns, the K.Valdemāra Street Bridge and the Kronvalds Park Bridge were illuminated as part of the Project. As part of the permanent illumination of the city centre project, trees next to the Freedom Monument, individual trees at Bastejkalns, groups of trees along the Canal by the Jēkabs Barracks, Rainis Memorial and the Esplanāde were also illuminated. Illumination of memorial stones was also completed.
The lighting installed in the city centre will operate for many years and is connected to the joint city lighting network. Just like in other European cities, LED lamps which last a long time and are very economical have been used in this project.
Project constructor: "Rīgas gaisma"
Project sponsor: Rīga City Council


Vote for the best light object of the Festival!
If you think this object is the best – send STAR013 to telephone number 1188.
Cost per SMS – at the usual rate charged for an SMS by your mobile phone operator.
Voting commences at 18.00 on 18th November and closes at 23.00 on 21st November.
Or
Vote on the DELFI portal in the special "Staro Rīga" news section
Voting starts on the 18th November at 18.00 and finishes at 24.00 on the 25th November.