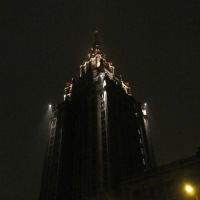 Location: The Latvian Academy of Sciences building
An idea is the driving force and foundation of development. It is born in our thoughts. When it gets implemented, it can belong to anyone, but it can also be just an illusion.
The light installation has been created by emphasizing the building's compositional construction which has a step-like form.
Project idea author: Visvaldis Asaris
Project constructor: IU "Asaris V"


Vote for the best light object of the Festival!
If you think this object is the best – send STARO43 to telephone number 1188.
Cost per SMS – at the usual rate charged for an SMS by your mobile phone operator.
Voting commences at 18.00 on 18th November and closes at 23.00 on 21st November.
Or
Vote on the DELFI portal in the special "Staro Rīga" news section
Voting starts on the 18th November at 18.00 and finishes at 24.00 on the 25th November.