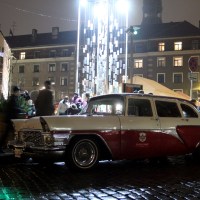 Location: Corner of Kaļķu and Tirgoņu street
The Tree of Light with its new lighting provides a playful summer sun's warmth and a feeling of light in the dark winter, creating an illusory association with the fire rituals of the solstices.
In 1510, the first Christmas tree in the world was decorated right on the Rīga Rātslaukums. On the 10th of June the people of Rīga and visitors to the city formally unveiled the Tree of Light at the open air leisure venue only a few metres away from the site where the historic tree was erected.
The electronic clock by the stylized tree, with the Rīga rooster on the steeple, counts down the time left until the moment when throughout the world people will start to decorate Christmas trees, which the Rīgans taught everyone to do more than 500 years ago.
Project idea author: Alvis Zemzaris
Project constructor: Rīga Tourism Development Bureau
Cooperation partner: SIA 'Gaco'
Project sponsor: Egle Open Air Leisure Venue



Vote for the best light object of the Festival!
If you think this object is the best – send STARO6 to telephone number 1188.
Cost per SMS – at the usual rate charged for an SMS by your mobile phone operator.
Voting commences at 18.00 on 18th November and closes at 23.00 on 21st November.
Or
Vote on the DELFI portal in the special "Staro Rīga" news section
Voting starts on the 18th November at 18.00 and finishes at 24.00 on the 25th November.