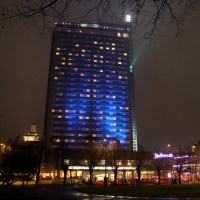 Location: Radisson Blu Hotel Latvija
For more than 30 years now, a 27 storey building, the former USSR State Foreign Tourism Committee's Hotel "Intūrists", which took on its current form after a complete reconstruction of the building in 2001, has been an inseparable component of the Rīga city centre environment. At the moment one of the internationally known hotel chain Radison Blu's hotels, the Radisson Blu Hotel Latvija, is located in the building.
During the "Staro Rīga" Festival, the hotel's facade and panoramic elevators will be decorated by moving light installations, which will stimulate a variety of personal feelings and reflections in city residents and visitors passing by, without a word being said.
Project idea author: Visvaldis Asaris
Project constructor: IU "Asaris V"
Project sponsors: Radisson Blu Hotel Latvija



Vote for the best light object of the Festival!
If you think this object is the best – send STARO53 to telephone number 1188.
Cost per SMS – at the usual rate charged for an SMS by your mobile phone operator.
Voting commences at 18.00 on 18th November and closes at 23.00 on 21st November.
Or
Vote on the DELFI portal in the special "Staro Rīga" news section
Voting starts on the 18th November at 18.00 and finishes at 24.00 on the 25th November.