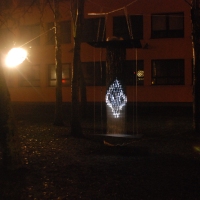 Location: Kungu Street, Rīga City Gymnasium No.3
"Raining Ouside?" is an environmental object which has been created using rain and light as an inspiration. Both of these natural powers have been combined in the object creating an unearthly effect – a sparkling drop of water with a heart of light. The wind causes a vibration, which together with the light, causes an optical illusion about a change in form, which in reality is constant. Each ray of light imperceptibly glimmers, but all together it creates a light pulsating effect in the heart of light. The "Raining Ouside?" environmental object's younger brother could be seen in the summer of 2010, at the POSITIVUS music festival, as part of the Tele2 campaign.
Project idea author: Roberts Līcis
Project constructors: Roberts Līcis, Gatis Krievāns
Project sponsor: TELE 2
Project cooperation partner: Rīga City Gymnasium No.3


Vote for the best light object of the Festival!
If you think this object is the best – send STARO30 to telephone number 1188.
Cost per SMS – at the usual rate charged for an SMS by your mobile phone operator.
Voting commences at 18.00 on 18th November and closes at 23.00 on 21st November.
Or
Vote on the DELFI portal in the special "Staro Rīga" news section
Voting starts on the 18th November at 18.00 and finishes at 24.00 on the 25th November.